Posted by AEM on Oct 5th 2016
Vintage Wins, When It Comes To Cashmere!
We all have our favorites--don't pretend that you don't!
As a vintage dealer and collector, I have mini-collections of many kinds (hats, 1940s sweetheart brooches, cotton novelty print 1950s dresses, etc...). That said, when I imagine any catastrophe about to hit my home, the first thing I'd save (after pets and husband, of course!) would be my collection of vintage cashmere sweaters, no question. And, when it comes to collecting cashmere sweaters on a budget, vintage is a clear winner!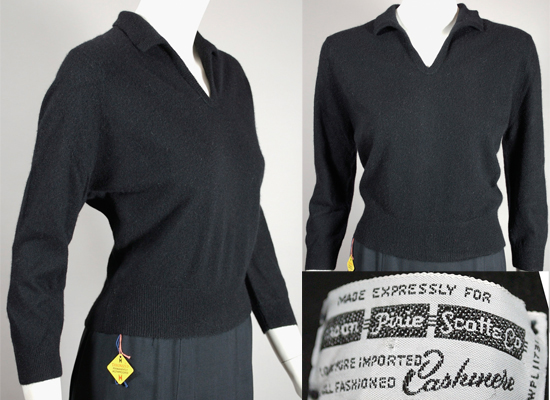 Fine cashmere is lightweight enough to wear for 3 full seasons, and even into the summer months as an outer layer. (SOLD)

Comparing vintage to modern cashmere items selling at approximately the same price point, vintage cashmere is an affordable luxury and modern cashmere can be a real disappointment.

Unlike most modern cashmere knit items, vintage cashmere was made from longer, silkier, and finer fibers. This means fewer pills and a much longer-lasting sweater. Most 1960s and older cashmere items that I have handled have already enjoyed one lifetime with their previous owner, yet they are often still in better condition than a moderately-priced, modern sweater after its first cleaning/washing. You may well ask yourself, "Why is that?" Turns out, it's all about the goats!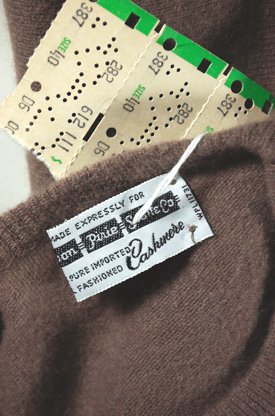 Some modern "cashmere" knits aren't even made of 100% cashmere! (SOLD)
Late 1950s or early 1960s cashmere sweater: 100% Pure Imported Cashmere size L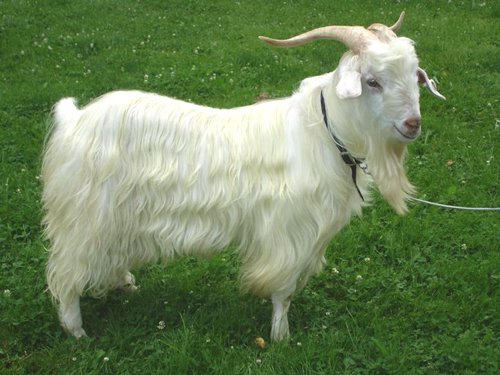 Cashmere goat--isn't he (or she) pretty? (Photo and quote from laughinggoatfiber.com.)
The origin of cashmere "...is the soft undercoat that they grow to keep themselves warm. These goats are native to the Himalayan mountains, and the Kashmir region of Pakistan. Unlike angora goats, they are combed, not sheared."

The fibers combed from the "best" parts of the goats, when they are ready to shed them, eventually become high quality cashmere garments--from this cute little goat to your favorite sweater!
1950s cashmere cardigan with silk satin bows trim (SOLD)
Baby blue and simply adorable, soft but still quite substantial when worn. Better cashmere fibers make better sweaters!
While it all originates as the fluffy undercoat of Mongolian goats, the best cashmere comes from specific parts of the goat. Apparently the hairs from the front end and belly are best, the hairs from the goat's back end are not so good—who knew? Inexpensive, modern cashmere clothing is often made from these shorter, lower-quality (and much cheaper) fibers, hence the bargain prices. However, investing in "disposable" cashmere is no real bargain, for your wallet or the environment. If you love the look and incredible feel of a quality cashmere knit, I truly recommend you give vintage cashmere a try.
In addition to the better fibers used, vintage knitwear also tends to be more tightly knit: the tighter knit means that it can take more wear before wearing out. Another plus: many vintage knits are "fully fashioned". This means that they knit all in one piece, rather than having the separate pieces, like sleeves or collar, knitted separately and then sewn together, resulting in seams around the arms and neck. Fully fashioned means no irritation from seams on the inner side when the vintage knit is worn. Hooray!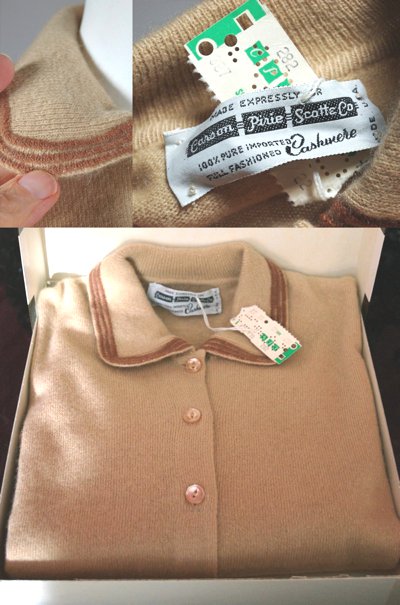 Fully fashioned: (SOLD) Camel cashmere cardigan sweater from the 1950s or 60s--still in its original box!
When shopping for vintage cashmere, check the outer surface of the knit for pills (little balls that can appear from lots of wear and cleaning—or because of less high-quality fibers). The best test to check for moth holes or worn places in the knit involves holding the sweater up to the light and looking through from the underside. Even tiny imperfections will show up when the light shines through them.
Finally, once you've decided on a vintage sweater or 3, make sure that you care for them properly after you take them home: gently hand washing or occasionally dry cleaning is best. With proper care, vintage cashmere in good condition will last much longer than its inexpensive, modern counterpart.
Vintage cashmere sweaters and cardigans have great designs, come in lovely colors, and are often just the right length for wearing with your favorite vintage dress or pencil skirt. That sounds like a win-win-win, to me!
Click here, to view our vintage sweaters for sale, and perhaps find a cashmere cutie for yourself!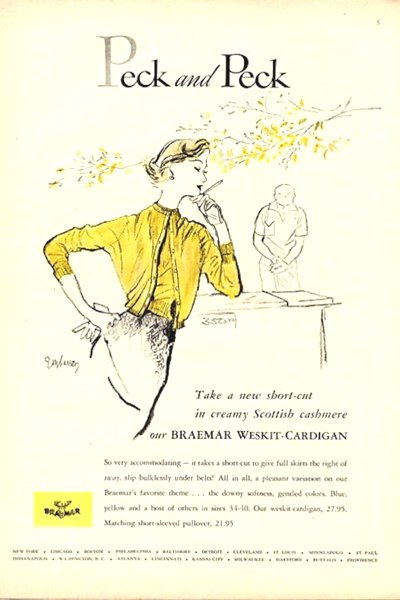 1952 Peck and Peck ad for shorter-length cashmere sweaters, designed for wear with full skirts.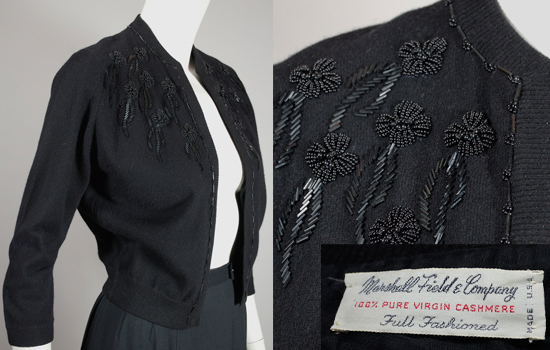 Cropped length, perfect for over a dress! (SOLD) Black beaded cashmere cardigan 1950s deadstock vintage (never worn!)